7 SIMPLE WAYS TO SAVE MONEY ON FURNITURE
Furniture doesn't need to be expensive.  There are lots of ways to save money on furniture, here are some of them:
1. Handles Make All The Difference
A few years ago, we were redecorating our bedroom and started to look around at bedroom furniture. There seemed to be two main options, solid wood or veneer. Both were very different styles and had very different price tags! Our existing furniture was solid pine with the traditional round knobs. Although I love solid wood, the style just felt very outdated.
Whilst looking around to see what was available, I came across a gorgeous solid oak wood set at Next which I absolutely loved but I just couldn't justify the cost in my head! I noticed that the tallboy looked very similar to our pine one but the wood was slightly darker and the handles were wrought iron, giving the whole set a very rustic look.
Suddenly, I had an idea. I bought some wax and ordered some new handles just like the ones I had seen. With a little bit of sanding, waxing and a change of handles our bedroom furniture was transformed. It literally saved us thousands of pounds! Below is the finished item. I hope you'll agree it doesn't look too bad and I proved you can save money on furniture too!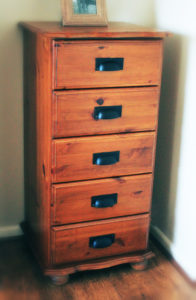 TOP TIP: I USED ANNIE SLOAN WAX  AND YOU CAN BUY THE HANDLES HERE
2. Buy New Furniture Off Ebay
I don't know about you but when I think of buying furniture, I visit a furniture shop and have a look around or maybe look in the Argos catalogue or shop at on-line furniture stores. It never occurred to me until last year to shop for furniture on Ebay. This is crazy considering I buy and sell on there all the time!
I was just surfing around Ebay sites as I often do and came across a shop that was selling fire surrounds, bedroom furniture and lounge furniture at very competitive prices. My first thoughts were, the quality is probably not good but the furniture and prices were just too good to ignore.
There was a telephone number listed so I called it to find out more. I was told that the furniture was end of line stock from high street retailers, so exactly what you and I buy all the time but for half the price! This particular store just happened to be in our county so my husband and I took a drive over to discover a huge warehouse of stock.
I LOVE finding bargain places like this! There are quite a few on Ebay, some of which have showrooms too. Next time you need some furniture, I recommend you have a look around, you might just be surprised at the savings you can make without compromising on quality!
3. How to Transform an Old Footstool
Footstools can be modern and square or stylish and gorgeous, either way they are certainly a welcome feature at the end of a busy day! Buying a really stylish footstool can set you back hundreds of pounds but there is a really simple way of transforming an old one. You'll need:
An old footstool (the traditional style with legs)  you can find these at car boot sales, charity shops, Ebay, and local Facebook selling pages
The fabric you require.
A heavy duty staple gun
If the padded area of the stool comes off easily then remove it but if not this can be done with it still in place. Simply cover the existing padded area with your new fabric and double fold all the way around. Staple the fabric underneath the padding to hold it securely.
You can also sand down the legs and stain or paint the legs if needed and that's about it! I saved money doing this with a dressing table stool. Very simple, very effective and another example of how you can save money on furniture.
TOP TIP: YOU CAN BUY A  STANLEY STAPLE GUN AND SOME BEAUTIFUL LAURA ASHLEY UPHOLSTERY FABRIC ON EBAY
4. Create a Kids Kitchen
All young children love play kitchens but to buy a well made one can be expensive. You'll be happy to know there is a simpler way that will save you pounds! This is not one I've attempted myself but I've seen one completed and it looked fabulous.
Here's what you do to create a cooker with oven, washing machine and sink.
Find a pair of second hand bedside cabinets, ideally with one top drawer and an opening door underneath. White is best but if not you can always paint them.
Buy or source some new long handles and replace.
Cut out some black vinyl, you'll need a circle for the washing machine door, two square/rectangular pieces for the oven and some circles for the cooker hobs on top.
Attach the square pieces of vinyl to the front of one cabinet for the cooker and the circle one to the front of the other for the washing machine.
Attach four small vinyl circles to the top of the cooker and 2-4 old door knobs of your choice.
On the top of the washing machine cabinet cut out a hole large enough for a dog bowl to fit in then drop a silver dog bowl in.
Either find some free taps which you can get from local skips or local free giveaway pages on Facebook or buy some cheap ones and attach to the top of the washing machine next to the dog bowl.
This can be adapted however you wish but hopefully gives you the idea of how it can work.
Below is a picture of something similar made by a mom for a our local playgroup. I think you'll agree it looks very effective, a fabulous job, some happy children and saving the group a whole lot of money too!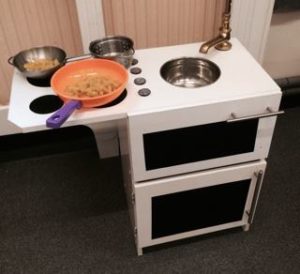 TOP TIP: YOU CAN BUY THE VINYL HERE
5. Pallet Garden Furniture
A friend of mine is pallet mad and I'm not surprised with the savings that can be made! It's basically free wood to do with what you wish. With Spring coming, let your imagination get to work and create some useful items for around the home and in the garden.
I love the idea of producing some stylish garden furniture and all for Free! Dress it up with your own handmade cushions to create a beautiful and unique piece for your own outside space.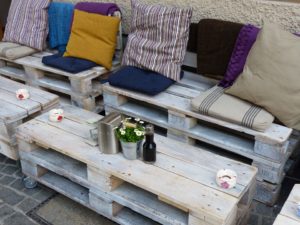 TOP TIP: PALLETS CAN BE PICKED UP EASILY AND FOR FREE BY CONTACTING LOCAL COMPANIES. MANY OF THEM ADVERTISE WITH SIGNS OUTSIDE. TAKE A LOOK ON LOCAL FACEBOOK FREE PAGES TOO!
6. Update Existing Furniture By Removing Old Features
Last year we redecorated our lounge and I really wanted a new fireplace. Our old wooden surround was the one that was left in the house when we bought it and had old style mouldings all over the front. The marble hearth had seen better days and I just didn't like it and wanted a new one to go with our new room.
We were already spending lots of money on the redecorating, flooring, curtains etc so my husband wasn't convinced that we should spend the extra money. Shopping around, I was shocked at the prices of fire surrounds. Most of which started at around £600 with the backing and hearth. We did find some at a lower price on Ebay but still, was it money we needed to spend?
Looking through a brochure I found a stunning oak surround with a black back panel and marble hearth which would fit perfectly but the price tag was £1200!
My husband then had the idea to remove the mouldings from our existing one and restain it. I really wasn't convinced! However, he went ahead and proved me wrong. We bought the back panel and marble hearth for £200 and a tin of woodstain saving us £1000 in the process!
Worth a thought if you have some old furniture with mouldings on that you could give a new life to.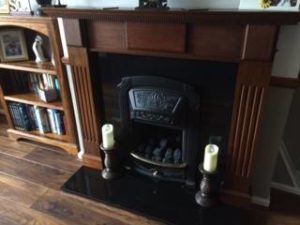 TOP TIP: BE CAREFUL WHEN REMOVING THE MOULDINGS NOT TO DAMAGE THE SURROUND.  YOU WILL PROBABLY BE LEFT WITH A FEW PIN HOLES SO SIMPLY FILL THESE WITH WOOD FILLER BEFORE STAINING. ALSO TEST THE WOOD STAIN TO MAKE SURE YOU'RE HAPPY WITH THE COLOUR BEFORE APPLYING.
7. Repaint Existing Wooden Furniture Without Sanding First
I love the idea of upcycling furniture, but I hate the preparation and sanding part, so I was so happy when I found that I could skip that part of the process!
I discovered a whole new world with Annie Sloan Chalk Paint.  You can use the paint in all sorts of ways but the simplest is to paint over your existing furniture (no need for sanding first!) When it's dry rub over it with Annie Sloan wax.
This is so simple and you can do it on furniture, doors, skirting boards, window sills, anywhere that is wooden for a very effective shabby shic, worn effect.  My favourite chalk paint is 'Old Ochre' and with the wax on top it gives a finish similar to the chair in the photograph at the top of this post.  You can visit Annie Sloan's website Here to view the products and find your local stockist.
So there you are, just a few ways you can save money on furniture.  I hope that it's given you some ideas. You could quite easily turn any one of these into a money making business too!
Have you transformed some old furniture into something new? Any other ideas you can add?
YOU MAY ALSO LIKE:
How to Earn a Regular Income on Ebay
Save Money with this Amazon Outlet Guide
10 Ways to Save Money on Holiday