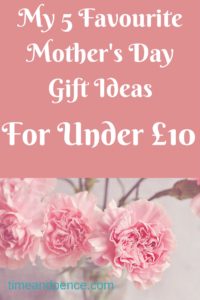 MY 5 FAVOURITE MOTHER'S DAY GIFT IDEAS FOR UNDER £10
If you are looking for Mother's Day gift ideas for under £10 then look no further!
Mother's Day is such a wonderful time to celebrate the fantastic job that mum's do every day. I am very lucky to have the most amazing mum and she is a wonderful grandmother to my son too!
When thinking of gifts for our mum's from ourselves and the grandchildren, I don't know about you, but for me, nothing seems good enough sometimes, to say all that I want to say.
It becomes more difficult each year to think of something unique, special and within our budget. So here, to give you a helping hand, I have brought you my 5 favourite gift ideas for Mother's Day that won't break the bank: (more…)