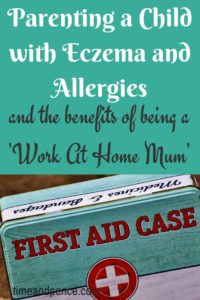 PARENTING A CHILD WITH ECZEMA AND ALLERGIES AND THE BENEFITS OF BEING A 'WORK AT HOME MUM'
I gave up my career to become self employed 15 years ago (you can read my story here).  This was long before I knew I would have the experience of parenting a child with Eczema and Allergies.
I always wanted to be at home if I had children. Being a work at home Mum was always my master plan. Little did I know just how valuable being able to work from home would prove to be later down the line!
The Diagnosis
At just 5 weeks old my son was diagnosed with  Eczema and Allergies and later with Asthma too. At that point, we had no idea exactly what the future would hold and what parenting a child with these chronic conditions would mean to us as a family.
Unfortunately for us, my son got worse and his Eczema became severe. This meant around the clock care.
What Eczema and Allergies Meant for Us as a Family
For most people, 'around the clock care' won't mean much or make much sense and I totally get that. Before I had my son, I used to think Eczema was a little bit of dry skin.  I had no idea how severe it could be.  Unless you experience it, it's difficult to explain. Any Eczema parent knows how debilitating the condition can be and at times traumatic.  For some, that might sound dramatic but when you wake up to find your baby covered in blood from all the scratching, that's the only way to describe it.
My son needed bathing once or twice daily.  He needed cream applying to his whole body every hour or two of the day and through the night.  He had to wear bandages constantly to stop him ripping into his skin. As he got older, I couldn't turn my back on him or he would scratch until he bled. I had to constantly distract him from his discomfort the best I could.
Sleep Deprivation
Until very recently my son didn't sleep at all at night. He would wake every one to two hours clawing at his skin as the itch became unbearable for him. We would need to lie with him to soothe him back to sleep constantly. This meant that every day we were all exhausted from the night before.
Multiple food and environment allergies affected our every day life. We constantly had to keep him safe from anything that might harm him. On many occasions we found ourselves driving to A & E because he had a reaction to something or his eczema was raging. We felt helpless.
As a parent you try anything and everything to give your child relief.   I spent hours and hours trawling the internet to find help for him.
I was and am, so grateful to be a work from home Mum.  It has enabled me to cope and provide him with the extra care he needed and still needs.
The Benefits of Being a Work at Home Mum
In additional to the usual benefits that working from home can provide, when parenting a child with Eczema and Allergies there are even more benefits:
It has meant that I have been able to care for his extra needs myself and not had to rely on anybody else.
After being up all night caring for him I have been able to work in my pj's the next day if needed and haven't had to turn up for a job.
As I work flexible hours, I was able to take him to playgroups myself and keep him safe from foods and allergens that could harm him.
It's not a problem if my son is ill and I have to spend the day at home with him.
I don't need to book time off work for hospital appointments.
School Nurse appointments are not a problem for me as I can fit them in as needed.
I have been able to spend hours searching the internet to learn about his condition, trying different remedies while searching for a cure for him.
I am here to take deliveries of medication, which we have delivered from the Doctor weekly.
If there was a problem or emergency at school, I know I am just a phone call and five minutes away.
I have time to prepare allergy free meals.
 Searching and shopping for suitable cotton clothes and allergy free foods etc is not a problem as I fit it in when suits me and when needed.
I have absolutely no idea how anybody copes parenting a child with Eczema and Allergies as well as holding down a job.  The sleep deprivation, emotional trauma and time it takes up is indescribable.
Eczema and Allergies are sadly on the rise. Over 20% of the population in the UK are affected by an allergic disorder and 15-30% of children have Eczema.
If you know anybody who is struggling to care for a child with Eczema and Allergies then Allergy UK offer a free helpline plus lots of advice and support on their site.
If you are parenting a child with Eczema and Allergies or any other chronic condition and feel that you would benefit from working from home or working flexible hours, you might find the following posts helpful.
How to Earn a Regular Income on Ebay
Where to Find Work from Home Telephone Jobs
How to Make Money with Matched Betting
Make Money Giving Away Free Biscuits
Do you know any parents of children with Eczema and Allergies?  How do they cope?