LOOKING FOR CHEAP HOLIDAYS?
How About Unlimited Holidays for £1200 Per Year?
Looking for Cheap Holidays is something that I think we all do when money is tight. I absolutely love getting away. Over the years have travelled to many places both overseas and in the UK.
Before having our son, my husband and I used to spend £2000 or more on just one holiday, travelling to places like Mexico and Egypt. This was as well as having one or two extra camping holidays each year.  We didn't particularly need or want to look for cheap holidays at that point.
After becoming parents, everything changed.
Why Everything Changed
At 5 weeks old our beautiful baby boy was diagnosed with severe eczema and multiple allergies making it impossible to travel abroad.  Being self employed was a blessing because I was able to take care of his extra needs, food preparations, bathing, creaming, bandaging etc.
Why We Needed to Look for Cheap Holidays
His condition also meant I worked less hours which obviously meant less disposable income. I started looking for cheap holidays in the UK where I knew we could buy allergy free food for him.
By this time, my husband and I had already developed a love of camping and the great outdoors.  Camping is the perfect cheap holiday and our first few holidays with our son we experienced in a tent. We did it as comfortably as we possibly could, with electrics and all the extras.  I even took our microwave so I could heat up the allergy free meals I had prepared to take with us.
However, with his food allergies and extra skin care it became increasingly difficult to camp. It felt like such hard work.  He didn't sleep well at night due to the constant itching. Dealing with that in a tent, trying to keep an upset 3 year old quiet because of other campers was just impossible.
The Holiday That Changed Everything
Then, two years ago, whilst on a camping holiday, my son was screaming in the shower block because his skin was hurting him. I was horrified.  He was used to having soothing baths which we couldn't do whilst camping. My husband and I decided that we could no longer camp in a tent. Suddenly, we weren't sure what we were going to do about holidays!
My son was just about to start preschool so we knew that traditional holidays in hotels or self catering apartments during school holidays would be expensive. We loved having more than one holiday each year but for this to be possible they would have to be cheap holidays. We thought our only option would be to save up all year for one holiday.
The Perfect Solution for Cheap Holidays
During that same holiday, we popped to another local camping site to visit some friends that had a static caravan there.  During our visit, we spotted a little touring caravan for sale. It was old but had been well looked after and we went inside to take a look.
The price was £3,000 and a few hours and discussions later we had withdrawn our savings and bought it for £2,500!  I still remember us looking at each other, questioning whether we had done the right thing.
Towing is something that has never appealed to us. The stress, the cost of a new, bigger car, the storage fees etc were all something we wanted to avoid.
The site where the caravan was, allows small tourers to be left sited all year, something I now know  as semi-static so this solved our problem.
We couldn't believe it, we had our own little caravan! I would be able to bath my son at night in the caravan (we use a plastic storage box as a bath) and soothe him during his discomfort at bedtime in our own privacy.  We could have cheap holidays every year once he started school without worrying about the cost.

Making it Ours
After our holiday, we left our son with my parents for a couple of nights and drove back down to the caravan. We spent 48 hours stripping out the carpet and curtains and cleaning it inside out. My husband laid down some vinyl on the floor to make it easy to keep clean and my mom helped by making some new curtains.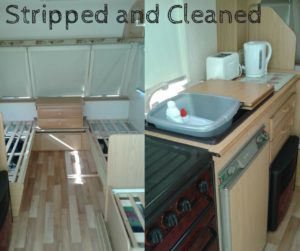 How We Have Cheap Holidays with Extra Benefits
The site is open from March-October so other than four months over Christmas and Winter, we can have as many holidays and breaks there as we want and all for £1200. With the average caravan holiday in England costing £600 upwards for a week, I think we definitely made the right choice.
As it's self catering, I do all my food shopping before we go so that we don't need to spend on food when we are there.
While we are away, we are not using gas and electricity at home.
We can travel at night and arrive any time we want so we don't get stuck in traffic for hours.
I don't need to spend hours each year looking for a holiday to book.
We get lots of quality time as a family each year.
How it Has Worked Out For Us
When we first bought the caravan I was a little apprehensive about going back to the same place over and over again but now I love it. When we get there, because we know the area, we know where is good to go and where isn't.  There is still so much of the nearby coast that we haven't yet explored.
My son now enjoys coastal walking with us and whenever we can we hop in the car and pop to our van.  This gives us lots of quality family time whenever we want it.
If you have ever quite fancied a holiday home of your own, then I hope this has inspired you to take a look around. You can pick up a cheap caravan for around £1,000 and it's amazing what you can do with them to improve the appearance and overall comfort.  You can choose whether to store it yourself and tow, or like us, find a site that will store it all year..
We now call it our second home……our little place by the sea and we wouldn't be without it.
If you are struggling to afford a holiday there are lots of ways you can earn extra income which you may like to read about here:
How to Earn a Regular Income on Ebay
Make Money Giving Away Free Biscuits
How to Make Money with Matched Betting
How much do you  pay for your holidays? Do you wish you could get away more?
You May Also Like:
6 Ideas for a Free Family Day Out
10 Ways to Save Money on Holiday
5 Ways to Make Extra Money When You Have No Time