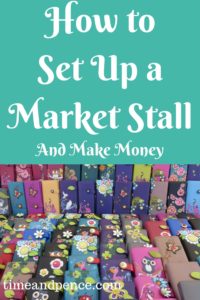 HOW TO SET UP A MARKET STALL
Have you ever wanted to set up a market stall but don't know how to go about it? This is just one of the things I have done in my colourful self-employed career. I set it up with a friend and it was great fun. I must confess it felt a little bit like playing shops!
I loved choosing and buying in new products to sell (it helped that it was dress jewellery and handbags!) I got a great buzz from making that first sale every day.
There can be a great community spirit amongst the traders and I loved being part of that. It's a good way to get out of the house and meet new people. Another bonus was the bacon sandwich breakfasts from the local café!
Today I am going to show you how you can run a market stall and have your own business too!
Where to Sell
One of the first things you need to do is to decide which markets you are going to sell at. Markets are held in different towns on various days of the week so you can decide which days you work. When my friend and I set up a market stall she had children and didn't want to work Saturdays, so we just worked during the week.
Some questions to ask yourself:
How many days do you want to work each week?
What market towns are near you?
How much do you need to earn?
Do you want to work weekends?
How far are you willing to travel?
It helps to write all this down. You then have the beginning of a plan of how to set up a market stall for yourself.
Once you have decided on the markets you would like to trade at, you will need to contact the Market Organisers to establish whether there is a pitch you can book and the pitch costs involved. Sometimes the market will be full. Also, they may have too many traders selling what you want to sell, so you may need to change your product choice or find another market.
The best place to contact the Market Organisers is usually through the local council website for the area.  It's also good to just ask the traders at the market and they will usually be able to give you contact details.  There are a few Facebook groups you can join too which may prove helpful in the early days such as this one here.
Don't forget to check trading hours and days for each market.
Decide What to Sell
You will also need to decide what to sell. It helps if it's something that you are interested in, but more importantly something that will sell and has very little competition. Spend some time at the markets you are planning on trading at. Have a look around and answer these questions:
What area is the market situated in?
Who are the customers and what is the age group?
What sort of thing are they likely to buy?
Look at existing stalls, what are traders already selling?
What is missing from the market
At one of the markets we sold at, the customers were primarily pensioners.  Shopping trolleys, purses and coin wallets were our best sellers there!  Another market had lots of young mum's so we did well with handbags, jewellery and children's school bags.
Find a Supplier
Once you've established what you would like to sell you'll need to find a supplier. This is usually the difficult part but I've already done the ground work for you. You can read my post how to find the best wholesalers here.. It is full of information of how to find product suppliers for everything you can imagine so i'm sure you'll find something you love.
Liability Insurance
As a Market Trader you will need to get Liability Insurance. This is often a requirement by the Market Organisers and simple enough to sort out.  This will cover you against liabilities such as  a customer getting injured or any liability associated with the products you are selling. We paid about £50 for the year. You can compare insurance prices here.  Be sure to check with the insurance company what the cover includes.
Other things you need to consider if you want to run your own market stall
Is your vehicle large enough to carry your stock to each market?
Could you set up with a friend to share the pitch cost?
Do you need to bring your own table/stand or are there tables already set up?
Have you got plenty of change for your float?
Do you need a sheet or cover for your table?
How are you going to present your products?
Will you need carrier bags?
Do you need any other props or stands to display your products?
Have you got plenty of warm clothing and a flask for the colder days?
Other Places to Sell
As well as setting up a market stall you may also want to sell your items in other places to increase your income.  You can sell at shows and events across the UK using Stallfinder or sell your products on Ebay.  You can read my post about how to earn a regular income on Ebay here.
Setting up a market stall can be a lot of hard work but it's a real fun way to make money too!
I Hope this post has given you some ideas and something to think about.
Please comment below if you think there is anything you can add to this.
YOU MAY ALSO LIKE:
How to Earn a Regular Income on e-Bay
How to Make Money with Matched Betting