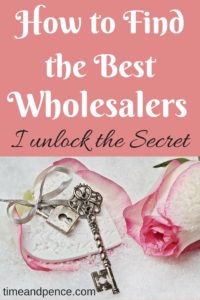 WHERE TO FIND WHOLESALERS
When I started on my selling journey I thought it would be easy to find wholesalers, how wrong I was! Not knowing where to start, I found myself going round and round in circles. Have you ever found this?
During my journey to find wholesalers it felt like it was a great secret that nobody wanted to share. I was constantly frustrated at finding nothing and getting nowhere. I used to think "surely it can't be that difficult, can it"?
Well, if you feel like this, I know exactly how you feel, but what I found was, when I started looking in the right places, I started to find exactly what I was looking for. I now realise that when you decide to sell, working out where to find wholesalers can take up an enormous amount of time and energy. It takes research, research and more research!
Does any of this sound familiar?
I want to sell but don't know where to find the products?
I have some great ideas but don't know where to start?
I've searched the internet and just cannot find any wholesalers?
I've found some directories but it says I need to pay for the information?
When I find wholesalers, how do I know they are reputable and trustworthy?
I see people selling products that I like and would love to sell them myself but don't know where to find them?
Well, you'll be glad to know that I am going to take some of this effort away by providing you with the exact information absolutely FREE to get you started on your selling journey!
Today I am going to share these 5 things with you:
Websites that will provide you with direct contact information.
The publication to buy to find suppliers.
The events to attend to meet the companies in person and see the sample products.
Suppliers that I have personally had dealings with.
WEBSITES THAT HELP YOU WHERE TO FIND WHOLESALERS
Alibaba serves millions of buyers and suppliers around the world. The members consist mainly of manufacturers, trading companies or resellers.  This is a great site if you trade in large order quantities. It's jam packed full of supplier information! The thing I love about this site is you can search by region so if you are specifically looking for suppliers in the UK it makes it easy to find them. Just a word of caution, once you register with this site you will be dealing with suppliers directly, so do your own homework!  There have been reports that it's difficult to communicate with suppliers such as not getting quick responses back from messages, so tread carefully.  That said, a lot of people have a great experience and trade very successfully.
AliExpress is owned by Alibaba and offers products at factory prices. The order quantities can be much smaller and as low as one item so it's great if you want to test out a new product before placing a larger order.  It has a very secure payment method which means your cash is held until you receive your order giving you extra piece of mind.
Lots of people shop and sell on Ebay without realising that there are lots of wholesale opportunities on there too! You will need to spend some time doing searches for job lots and wholesale. Look around Ebay shops, check prices and feedback etc. Once you've found a good supplier you will be able to contact them directly if you choose.
I love this site and was really excited when I came across it because there is such a variety of suppliers. It's a free online directly for anyone looking for stock to re-sell. The navigation is very simple making it very easy to find wholesalers. You can search by category and there is a short description about each wholesaler with an option to read more information or go straight through to the wholesaler's website direct.  There is also a small section for Dropshippers..
THE PUBLICATION THAT LISTS WHOLESALERS
The Trader is a fantastic publication to find wholesalers which is published monthly. The magazine is available at most major newsagents.  It's full of advertisements from suppliers covering thousands of product lines from toys and clothing to furniture and homewares.  If there is something you want to source, you are sure to find it in here!  Their website also lists wholesalers by category and provides a short description and contact details.  You can check it out here.
VISIT A TRADE SHOW TO FIND WHOLESALERS
There are a few annual Trade Shows across the UK which are particularly handy if you want to meet the suppliers face to face and chat about the opportunities available to you, as a trader.
I have personally attended The Spring Fair and The Autumn Fair at the NEC in Birmingham. They are fabulous exhibitions packed full of exhibitors excited to show you their products.  The focus is mainly on giftware and homewares but if that's not what excites you, then here are a few more trade shows and categories you may find helpful.
The International Food and Drink Event, ExCel London –  Food, Drink and Grocery.
Harrogate International Nursery Fair –  Baby Goods, Nursery, Clothing and Toys.
Internet Retailing Expo, NEC Birmingham –  Website Design, SEO, Internet Marketing, Social Media, Mobile Retailing.
National Convenience Show, NEC Birmingham – Food, Drinks Confectionary.
Bubble, Business Design Centre London – Childrens Wear, Footwear, Toys and Gifts.
The Manchester Furniture Show –  Well Known Named Furniture.
Home and Gift Harrogate – Gifts, Greetings, Jewellery and Stationery.
MODA, Birmingham – Womenswear, Menswear, Swimwear, Lingerie and Accessories.
Speciality and Fine Food Fair, Olympia London – Artisan Food, Cheese and Dairy, Baked Goods, Alcoholic Beverages.
International Jewellery London, Olympia London – Jewellery and Gemstones.
The dates vary each year for the Trade Shows so you will need to check online if you want to visit. You can find more trade shows and further information about the shows and the organisers here.
5 WHOLESALERS I HAVE USED
Below is a list of wholesalers that I have personally used with no problems and can therefore recommend:
Fat Giraffe – Supplies bags of all kinds including childrens bags, handbags, rucksacks, wallets and purses, plus accessories.
Excelsior – Suppliers of Dried and Silk Flowers and Gifts primarily to the florestry industry. This is quite near to where I live and certainly worth a visit if you live in the Midlands.  It's a huge warehouse with lots of little nooks to explore! I've never ordered online but I have always found the staff really helpful so i'm sure on-line would be no different.
Something Different– Suppliers of giftware and perfect for on-line reselling or small retailer outlets.
Amber Jewellery – Suppliers of beautiful dress jewellery and accessories.  They have a stunning catalogue and would suit somebody wanting to do home parties as well as retailers.  The range is vast with some very beautiful items including wedding accessories….a real girl's paradise!
As with all wholesalers, you will need to check their individual trading terms and conditions.  Some have minimum order requirements and delivery charges vary so make sure you are clear before placing any orders.
I hope you have found this useful. Do you have any other wholesalers you could add to the list? Please comment below if you do.
YOU MAY ALSO LIKE:
How to Earn a Regular Income on Ebay
6 Simple Ways to Increase Your e-Bay Sales and Income