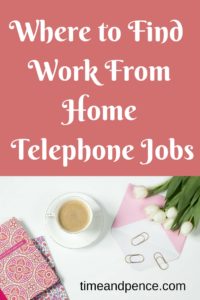 WORK FROM HOME TELEPHONE JOBS – WHERE TO FIND THEM
Genuine, work from home telephone jobs are hard to find. Today I want to talk to you about some real opportunities that really do exist, in the hope that I can help you on your road to a flexible working life.
For some people this is their dream job and I used to think that the only jobs that existed like this were scams. Then, a couple of years ago I came across some legitimate opportunities for work from home telephone jobs which I am now going to share with you.
There is a little more to these than just being a telephone operator. They often require some commitment with regards to the shifts, however, the hours are very flexible and you can work from home, working the hours you choose.
These jobs could work perfectly for you. Saving you:
time and money on the commute to work
child care costs if you have children
work clothing costs
as well as providing you with the flexibility to fit your shifts around family life.
Work from Home Telephone Job Number 1
Job Title: Home Agent
Company: Sensee
Sensee serves the customers of many top UK companies including Argos, Aviva, Eurostar, PhotoBox, RAC and Rank Interactive.
Agents are employed by the company with the added bonus of flexible work from home hours. You will be providing customer service and support and as an employee there are also opportunities for career advancement should you want to progress to management.
If this sounds like something you would be interested in, you can read more here.
Work from Home Telephone Job Number 2
Job Title: Call Centre Agent
Company: Arise
Arise provides the opportunity for you to run your own virtual call centre from home.
This is a fantastic opportunity to work from home for anybody wanting to work flexible hours.  Call centre experience is a bonus, although you don't need experience to be accepted into their programme.
You will need to commit to at least 15 hours per week but the hours are flexible and you can choose them from a weekly schedule.
There are some technical requirements for your pc and phone and you will also need to set yourself up as a Limited Company but don't worry, this is not as daunting as it sounds. There is a lot of information on their website and they will help to guide you through the process.
I started the training with Arise a few years ago and it was really interesting and enjoyable. The only reason I stopped was because at the time I couldn't commit to 15 hours per week, otherwise I believe this is a great opportunity for anybody looking for flexible work from home hours.  If you want to grow with this company then you can expand your business too!
You can read more about the opportunity and business set up requirements here.
Work from Home Telephone Job Number 3
Job Title: Independent Personal Travel Consultants and Telesales Homeworkers
Company: Hays Travel
Hays Travel are the largest independent travel agents in the UK. They offer work from home opportunities for people looking for flexible working hours.  Ideally you should be passionate about the industry and for the telesales positions it does say that they are looking for people with impressive sales achievement records.
The benefits of becoming an independent travel agent with Hays is the fantastic training and support they offer. You will be working for yourself but not by yourself. They seem to have a real team spirit and provide an enjoyable work experience. Your earnings are unlimited too!
There is a video on their website explaining more which you can watch here.
I hope these have maybe given you something to think about.  Do you know of any other work from home telephone jobs you can add to my list?
YOU MAY ALSO LIKE:
How to Make Money with Matched Betting
How to Earn a Regular Income on Ebay
Earn £2000 Per Month as a Chat-Line Operator