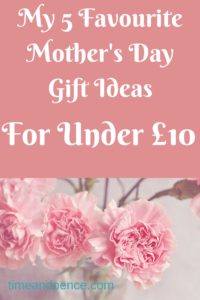 MY 5 FAVOURITE MOTHER'S DAY GIFT IDEAS FOR UNDER £10
If you are looking for Mother's Day gift ideas for under £10 then look no further!
Mother's Day is such a wonderful time to celebrate the fantastic job that mum's do every day. I am very lucky to have the most amazing mum and she is a wonderful grandmother to my son too!
When thinking of gifts for our mum's from ourselves and the grandchildren, I don't know about you, but for me, nothing seems good enough sometimes, to say all that I want to say.
It becomes more difficult each year to think of something unique, special and within our budget. So here, to give you a helping hand, I have brought you my 5 favourite gift ideas for Mother's Day that won't break the bank:
(This post may contain affiliate links, please read my disclosure for more info)
1. Personalised Photo Frame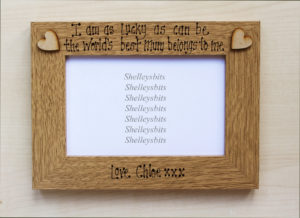 This personalised photo frame is perfect if you have a beautiful photograph of you and your mum or your children. The wording can say absolutely anything you want so it is totally unique and personal for your mum. A couple of years ago I framed a beautiful photograph of my son and my mum blowing bubbles, a beautiful memory for her to treasure! Very affordable at only £9.99!
2. Handpainting – A Handmade Personalised Framed Photograph
This Mother's Day gift is probably the most special of all! Hand prints are always a lovely idea but paintings get knocked about and creased and are generally not long lasting so here's a long lasting alternative you can make:
Help your child/children to coat their hand in paint and make a print on a piece of A4 paper. If you have more than one child get them to do it all on one sheet but evenly spread out and with plenty of space around the edge.  This looks nicer if each one is a different colour.
Once it's dried ask each child to write their name above or under their print in black or if they are too young, write it for them and add the date in the corner.
Grab your mobile phone and take a photograph. You will need to make sure you stand directly over the artwork to get a flat lay photo with no background showing. If you have a decent camera, even better!
Go to a local print shop and print off the photo. (You can choose the size depending what frame you are going to use).
Buy a frame and pop it in. I love this vintage/antique style selection of frames here.
Alternatively you can create one for each child and use multiple frames like these ones here.
3. Mum Gift Plaque
I love the words on this plaque. This special gift  is sure to bring a smile to any mum's face on Mother's Day. At only £4.99, it's a real bargain and you can buy it here.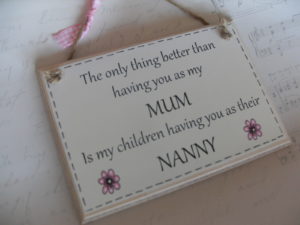 4. Gelicity Spa Bath
The idea of a Spa Day is wonderful as a Mother's Day gift but for many the option is just not affordable. Gelicity have decided to bring the spa experience to you at home with this luxurious Spa Bath Gel for just £9.99.
The Gel provides a deep cleanse while relaxing your muscles and removing toxins from your body via the principle of osmosis.
Providing a real 'at home' Spa Experience, this gift is certain to be a hit with any mum!
5. 10 Reasons Why I Love My Mum
I absolutely love this idea for Mother's Day.  It's so beautiful and sure to bring a tear to any Mum's or Grandmother's eye!  I love the way it can be personalised with any messages and words you require so it is absolutely unique to you and your relationship with your mum or your children's relationship with your mum.  If you like this idea, you can buy it here.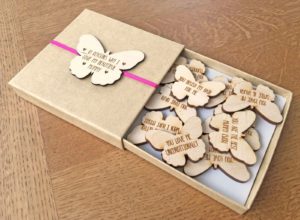 So that's it.  My round up of my favourite Mother's Day gift ideas for under £10.  Do you have any other unusual or unique ideas? Please comment below and share you ideas and help us all to celebrate our amazing Mum's on Mother's Day.