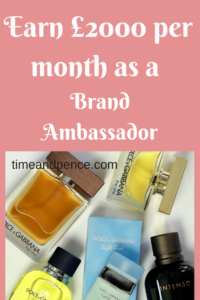 HOW TO MAKE MONEY AS A BRAND AMBASSADOR
Have you ever wondered how you can make money as a Brand Ambassador? I think out of all the work I have done on a self employed basis this has been the most fun! If you would like to earn a good income, be in control of the days and hours you work then this is ideal.  It's really varied too which makes it interesting and enjoyable.
Below I will set out all the information you need to get started on your journey to earn up to £2000 per month.
You can work:
On an ad-hoc basis.
1-2 days per week or 7 days per week.
It's up to you how much work you do and therefore, how much you earn.
WHAT IS A BRAND AMBASSADOR?
A Brand Ambassador is somebody who is hired by a company to represent a brand in a positive way, increasing brand awareness and sales. Sometimes you will work alone and sometimes in a team. As you will often be working with other Brand Ambassadors it's a great way to make new friends!
WHO CAN DO THIS?
In theory anybody can do this, male or female, young and old. However, the company will usually try to match the Ambassador with the brand they are promoting. Although direct experience is not usually required, it may help if you can include any retail/customer facing/promotional/hospitality/customer service/sales work you have done in the past.  Try to think of anything you've done that just may help when registering.
The attributes they are usually looking for include:
Well presented
Outgoing and Confident
Energetic
Good communication skills
Ability to be passionate about the brand you are representing
Reliability
Able to travel to various locations
HOW DOES IT WORK?
Register with as many Branding/Promotions/Hospitality staffing agencies as possible.
You can choose who you register with but the more you register with the more work offers you will get.
They will send you work offers usually by text or email.
The offer will set out the work required, the days, hours and pay.
If you want the job, you accept the offer.
HOW DO I EARN £2000 PER MONTH?
Accept as many assignments as you can. If you can work evenings and take on full weeks as well this will help you to achieve this income.  As you will see below the pay will vary from company to company.  To earn £2000 you may need to work 6 days on some of the weeks.
EXAMPLES OF WORK I'VE DONE AND WHAT I WAS PAID
Handed out goody bags and sold magazine subscriptions at the Birmingham Good Food Show. Pay: £500 for five days work
Stood outside Tesco in a purpose built kitchen, spreading Nutella on toast and handing out to customers. Pay: £255 for 3 days work
Asked Tesco customers if they would like to sign up for a Tesco Clubcard. Pay: £210 for 3 days work
Handed out Lynx bags with free samples of Men's Lynx. Pay: £75 for one days work
Encouraged customers to smell a new Herbal Essence Shampoo. Pay: £150 for two days work
Walked around a large exhibition encouraging customers to fill in their details and enter a competition. Pay: £300 for three days work
COMPANIES I CAN PERSONALLY RECOMMEND
These five are companies that either I or people I know have worked for:
If you are serious and committed then I would definitely also recommend registering with STUCK FOR STAFF where all the top staffing agencies post work regularly.  This is a great site if you  need to earn money quickly as many jobs advertised are companies looking for staff at the last minute. There is a fee to subscribe which is around £17.50 for six months but you soon recoup that when you do your first days work!
I have really enjoyed writing this post. It's reminded me of the fun I had doing this kind of work and I may even go back to doing a little bit again myself!
I do hope you have found it useful, and it's shown you how to make money as a Brand Amassador.  You really can earn up to £2,000 per month if you put in the effort to find the work, get booked in and are willing to work the hours.
Have you ever done this kind of work?  Do you have any other companies you can recommend?
YOU MAY ALSO LIKE:
Make Money Giving Away Free Biscuits
How to Make Money with Matched Betting
How to Earn a Regular Income on Ebay