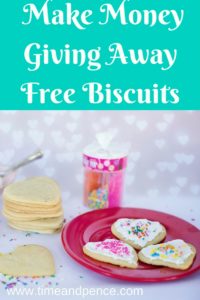 MAKE MONEY AS A FOOD SAMPLER
Have you ever been wandering around a supermarket doing your food shopping, minding your own business, when a person with a big smile on their face asks you if you would like to try a free biscuit? Well, a few years ago that was me! I loved this work, it's a fun way to make money with totally flexible hours!  Here I am going to show you how you can do it too!
Your Job as a Food Sampler
Your job is to promote the brand by encouraging people to try a sample of the food or beverage while talking about the key selling points.
The aim is to encourage people to buy. Very often there is an offer price which makes this really easy!
How Does It Work?
You register with the staffing company.
You may need to do an on-line Food Hygiene Course which can be done in a few hours. It's really easy to do and the company will guide you in the right direction if that is needed.
They contact you when an assignment is available, usually by e-mail or text. This will give the dates, hours and pay available.
You decide whether you want the assignment and if so, accept it.
The company sends you a brief. In my experience, a box of promotional items would also then be sent to me.
You will often be expected to wear a branded t-shirt/clothing for the promotion which will also be sent to you.
Some of the Samples I've Handed Out to Make Money
Fox's biscuits
Starbucks Coffee
Activia Desserts
Flora Buttery
Coca Cola
Lindt chocolates
Plus many many more!
Who Can Do It?
Anybody who looks smart and presentable with good communication skills. Male or female, young and old. It helps if you have a smiley face too!
Do I Need Experience?
No, but it does help when registering if you can show examples of any customer facing experience you may have.
Can I Really Make Money and How Much?
Yes you can make money as a food sampler! The pay depends on the promotion and the distance (sometimes travel expenses are included). In general, you can expect to earn £7.50-£10.00 per hour, but this can be more.
Where Do I Start?
There are lots of staffing companies who offer food sampling assignments. These are the ones I have used to make money with so i'm happy to recommend them.  I have also shown the supermarket I worked in.
Each staffing company is different, above is a general outline of how it works.
The benefits of this kind of work is you can pick and choose what you do. You can make money, fitting it around your existing family and work commitments.
Have you ever done this kind of work? What food did you promote other than free biscuits?
YOU MAY ALSO LIKE:
How to Make Money as a Brand Ambassador
How to Make Money with Matched Bettting
Where to Find Work from Home Telephone Jobs
How to Earn a Regular Income on Ebay